Printing »
Large Format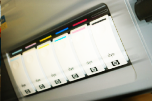 Large Format
One off show window posters, great for sales days
Ideal for exhibitions/trade shows
Individual 'shop window' displays
Competitively priced
Professional looking
Noticeable from a distance
We offer a comprehensive range of large format printing. Maximise your impact with our full colour, large posters, banners and exhibition panels to captivate your audience.
Large Posters/Banners
Our HP DesignJet 5000 is an inkjet printer and offers affordable one off or short run poster, banner and point of sale material prints at a maximum size of 100 feet long by (900mm) just under 1 metre wide ideal for any campaign or window advertising. Our posters are printed on premium plus semi matt paper.
Our standard poster sizes;
A3 - 420 x 297 mm
A2 - 594 x 420 mm
A1 - 841 x 594 mm
A0 - 1189 x 841 mm
Presentation Foamboards:
We stock 5mm foamboard, used extensively in the exhibition and display industry, foamboard is the ideal product for short term indoor meetings or displays. We produce a lot of presentation boards for our clients which are ideal for sales pitches.
Exhibition Display Stands:
Stylish, light-weight, portable banner stands are available in a choice of sizes and are simple to use making them ideal for conferences, reception areas, retail, schools and exhibitions.
Pop up stands are portable Exhibition Graphic Banner Display Systems with a 'pop up' collapsible / retractable aluminium frame. These quick pop up curved stands are a popular mid-range pop-up stand with self locating 'smart' magnetic locking arms, magnetic bars, clip-on graphic hanger fittings.
Product Features:
Lightweight curved frame with quality anodised finish
Self locating 'smart' magnetic locking arms & mag bars
This product has a 10 year manufacturers guarantee on the hardware components
Dimensions 3365x2225mm
Pull Up Roller Banner Stands:
High-quality pop-up stands that are perfect for exhibitions, conferences and reception areas to make a fantastic first impression or to attract potential customers.
The Grasshopper budget banner stand will suit your needs perfectly. We also offer a more sophisticated and quality banner stand, the Barracuda which is a top seller.
Grasshopper Overview:
Graphic max. height - 2000mm
Graphic max. width - 800mm
Easy to erect
Non-changeable graphic
Carry bag included
1 year guarantee on the stand only
Compact, portable and lightweight roller banner stand. It features two twist out feet and comes in a silver anodised finish.
Barracuda Overview:
Graphic max. height - 2165mm
Graphic max. width - 800mm
Easy to erect
Interchangeable graphic
Padded carry bag included
10 year guarantee on the stand only
The Barracuda is built to last and only requires 60 seconds to assemble.
Need a quote? Click here for online quote >>
Alternatively please call us on 01472 351277.