Printing »
Local Delivery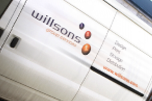 Local Deliveries
Free within a ten mile radius
Own vehicle deliveries
Friendly and helpful drivers
Timed deliveries
Partial deliveries and balanced stored
Our FREE local delivery is done by our fleet of delivery vehicles. We can deliver locally up to a 10 mile radius.
Our friendly team of drivers will deliver your print direct to your door.
For non local deliveries we use UPS, who will give you the same high level of service.
Need a quote? Click here for online quote >>
Alternatively please call us on 01472 351277.